Business Inception Identification supplies a small portable reader for reading transponders in animals.
The Real Trace and E-Mark reader combines reading, decoding and checking the signals of the transponder types, ISO11784/11785 FDX-A and FDX-B.
The reader is characterised by its high reading sensitivity, low power consumption and easy portability.
The reader transmits low power radio frequency signals to activate the transponder implanted in the animal.
The feedback of the transponder is captured and converted by the reader in digital data and visualised in the reader's display.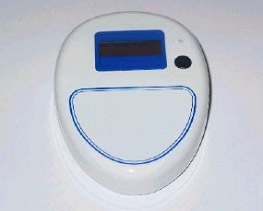 MAIN TECHNICAL CHARACTERISTICS
Power output < 0.3 Watt radio signal
Frequency 134.2 KHz ± 10%
Modulation sinus
Compatible to microchip type ISO11784
FDX-B/FDX-A
Reading distance 4-7 cm
Battery 9V, alkaline cell 6F22
Weight 195g only (battery included)
Dimensions 110 x 80 x 30 mm
Working temperature -0°C – +55°C
Humidity 98% in non-condensation condition
Dimensions 110x80x30 mm.